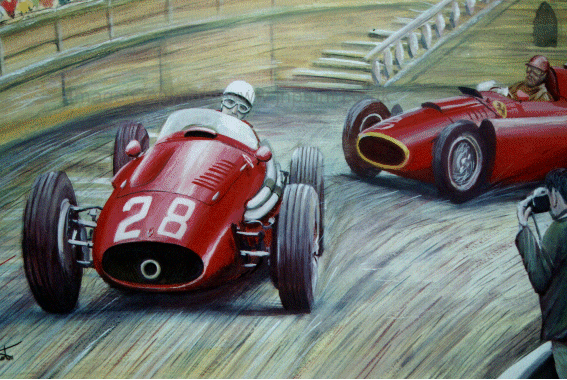 Pre-1960 Grand Prix Jeff Norton Motorsport Paintings
Maserati Maestro
Stirling Moss on his way to victory in the 1956 Monaco Grand Prix..

The original painting is available. In Acrylic paint on heavyweight 250 gram/m cartridge paper in a champagne coloured mount to fit an off the shelf 50cm x 40 cm glazed frame. Price is £150.00 + carriage at cost.

Prints are available made on heavyweight (225g/m2) watercolour texture paper, using inks which are guaranteed lightfast for 60 years in normal conditions, when mounted behind glass.

A3 (41 x 29.5 cm) are priced at £10.00 + carriage at cost, and are an open run of prints, unsigned.
A3 prints can be supplied mounted behind a champagne mountboard to fit an off the shelf 50x 40 cm glazed frame.
.

Click on the relevant link below to be taken to a secure Paypal site for payment.
NB. You will be initially charged for carriage on all items. Order 3 or more prints and receive a 20% discount in the form of cashback, refunded to your Paypal account within 24 hours at time of despatch.


Image Copyright www.jnpaint.co.uk
NB. Paypal will convert price in GBP to your local currency at their exchange rate